DHCD's housing and neighborhood revitalization program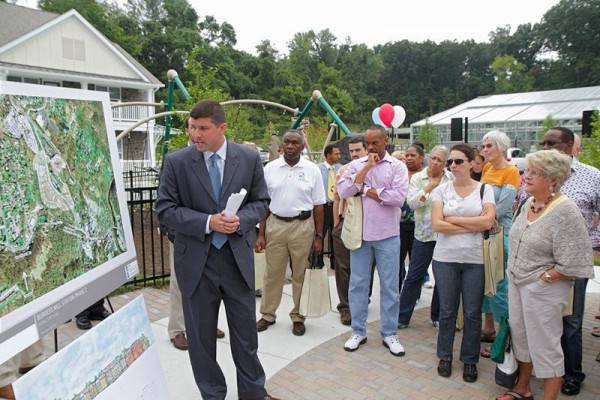 Columbia, MD – Secretary Skinner joined members of DHCD's Community Development Administration on a tour of neighborhoods in Anne Arundel, Howard and Prince George's counties.
The idea behind the team-building day trip was to let the hardworking men and women who work in DHCD's single family and multifamily units see the faces behind the paper; the effects of DHCD-funded projects on the families who live there. But that works two ways; residents in those communities also got a chance to meet some of the people whose behind-the-scenes work made their homes possible.
The group visited communities such as Burgess Mill Station in Ellicott City, where they were joined by County Executive Ken Ulman. At Burgess Mill Station, state resources and federal low income tax credits helped finance the redevelopment of the former Hilltop into a vibrant, mixed-income community.
The Community Development Administration is the housing finance arm of DHCD, working to build homeownership and increase the supply of affordable rental housing for working families, senior citizens and individuals with special needs.
Those programs have a dramatic impact on the state's economic well-being. Each year, DHCD's housing and neighborhood revitalization programs create jobs, stimulate the economy and add millions in state and local taxes. DHCD programs typically have an annual economic impact of about $30 for every dollar spent.
But those programs have an even more significant and far-reaching impact on what Governor O'Malley calls the most important place in the state – the family home. Using state and federal tax credits and other financing resources, the O'Malley-Brown administration has added more than 13,196 rental units in 145 projects for working families, senior citizens and those with special needs, with a total value of more than $2 billion. Through the Maryland Mortgage Program, the O'Malley-Brown administration has helped 10,731 families achieve homeownership with mortgages and down payment assistance totaling more than $2.1 billion.
About The Author