Luxury apartments proposed in Maple Lawn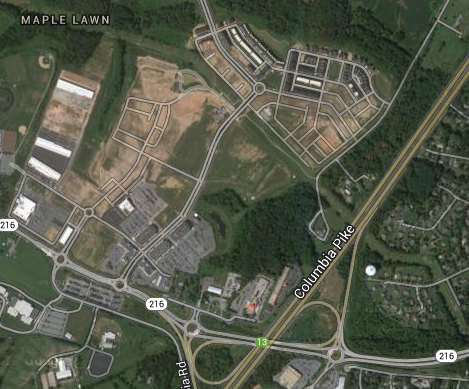 A developer hopes to build luxury apartments between the Cherry Tree Shopping Center and the east side of the Maple Lawn community in Fulton, according to a plan presented to neighbors Thursday night.
The apartments would be built on the Buch property at the end of Old Columbia Road, where a construction business is currently located. The lot's zoning was changed from business to a new designation allowing only for higher density residential projects during the last comprehensive zoning process in July 2013.
Plans show a long, four-story building on the middle of the property, with several clusters of apartments connected by corridors . The new community would include 283 housing units in total, according to engineer Robert Vogel, whose firm is designing the project.
Scott Moore, a developer for the project, said the units, which will be a combination of one-, two- and three-bedroom apartments, would likely rent for $1,500 to $2,500. By county law, the development would also be required to offer 15 percent of its units at a more moderate rate. Moore said those would be priced between $1,100 and $1,500.
The apartments would likely be managed by The Bozzuto Group, Moore said, and would be similar in design to Flats 170, an apartment community in Odenton.
The entrance to the community would be at the end of Old Columbia Road, which dead ends at the property. Vogel said it was unlikely the road could be extended to offer another access point, because the property is bounded on the south by the shopping center and a Howard County police and fire station.
Parking for the development would abut Route 29, along the eastern side of the lot. Vogel said there would be 1.8 parking spaces per unit, for a total of about 510 spots.
Moore said the project would ideally be completed in 2017, if the approval process runs smoothly.
But community members at the meeting said they had serious concerns about additional traffic and school overcrowding.
"It's a completely unsafe situation," said Vanessa Atterbeary, a resident of the neighboring Maple Lawn community and a Democratic candidate for a delegate seat in Howard's District 13. Neighbors said children often cross nearby streets and would be endangered by added traffic, which they argued is already heavy during rush hour.
The next step for the proposal is for the developer to submit an environmental concept plan and site development plan to the county. Once those are received, an approval process, which includes a traffic study and adequate public facilities test, will begin.
Vogel said the lot is zoned appropriately for the apartment project and would not require any conditional use or waiver requests.
About The Author